Theme: Projecting Modern Techniques to Improve Orthodontics
Dental Medicine Congress 2021
Dental Medicine Congress 2021 is a perfect opportunity intended for International well-being Dental and Oral experts too. The conference welcomes members from every driving university, clinical examination foundations and symptomatic organizations to share their exploration, giving a showcase of the most recent dental procedures. This is to encourage the usage and distribution of discoveries associated with oral well-being and to foster collaborations in the middle of oral and systemic well-being.
Brochure : Click here
The theme of the meeting is "Projecting Modern Techniques to Improve Dental Health" which will provide an international podium for discussion of present and future challenges in oral health, dental education, and expertise meeting. Clinicians, World-leading health practitioners, educators, and researchers will present innovative research and practical clinical techniques based upon widely accepted evidence.
Abstract submission: Click here
Interested speakers can submit your abstract along with your biography and photograph. Abstract should be containing the 250-300 words and you can directly submit your abstract in our website. Speakers can choose topic from our scientific sessions or you can even present on your own research in respective field.
Why to attend?
Dental Medicine Congress2021 could be a unique event that brings together an International mix of leading universities, research institutions, Dental communities making this conference a perfect platform to foster collaborations, share experience across the globe. This will be the best opportunity to reach an enormous number of participants from the Oral community. World-renowned speakers, emergent approaches in dental medicines add colors to this conference. Dentistry Medicine 2021 enlarges the opportunity to evaluate the emerging technologies and recent updates in oral health care across the globe. With members from around the world emphasis on learning about Dental Care and its advances, this is your best opportunity to reach the largest assemblage of participants from the Dental and Oral Care community. Conduct presentations, distribute information, meet with current and potential scientists, make a splatter with new developments, and receive name recognition at this event.
Targeted Audience
Dental/Oral Surgeons
Principal Dentist's
Dental Nurses
Orthodontists
Endodontists
Periodontics
Dental Radiologists
Dental and Oral Health Faculty and Students,Researchers.
Dental and Oral Health Societies, Associations and Universities
Dental or Oral Therapists & Hygienists
Dental Treatment Coordinators
Dental Owners or Partners
Manufacturing Medical Devices Companies
Management and Procurement teams from Corporate Dental Organizations
Practice Managers / Dental Business
For more details: http://dentalmedicine.dentalcongress.com/
Orthodontic Materials used to provide orthodontic treatments and to construct orthodontic devices, Orthodontic Materials are used in specialty orthodontic practices as well as general practices that provide orthodontic services. These materials include Orthodontic Brackets made from ceramics, cobalt chromium, composite, gold, plastic, stainless steel and titanium, as well as lingual brackets and self-litigating brackets. Orthodontic materials called as orthodontia – the word comes from the Greek orthos, meaning"straight, perfect or proper", and dontos, which means "teeth".
Surgically-assisted orthodontics is used to avoid conventional orthodontic care such as root resporption, decalcification, and relapse. The surgically-assisted orthodontics procedure is performed in the office setting under I.V. sedation and involves stippling of the cortical bone around the teeth that are to be moved along with bone grafting following the placement of your braces by orthodontist. This procedure confines the power of bone physiology by changing how your teeth and surrounding bone respond to braces.
Accelerated orthodontics employs advanced orthodontics combined with periodontal oral surgery which activates the bone that surrounds the teeth. By stimulating and softening the bone, the teeth can be moved at an accelerated rate, while at the same time adding new bone to generate a better foundation for the teeth
Dental and oral health is the fundamental part of your overall health and well-being. Poor oral hygiene can lead to bad breath, tooth decay, dental cavities and gum disease, and has also been linked to heart disease, cancer, and diabetes. Taking good care of your mouth, maintaining healthy teeth and gums is a lifelong commitment. Understand the importance of oral hygiene habits — such as brushing, flossing, and limiting your sugar intake — the easier it'll be to avoid costly dental procedures and long-term health issues.
Pediatric Dentistry is the sub-branch of dentistry defined as the practice, teaching and research in comprehensive preventative and therapeutic oral health care of children from birth through adolescence. Pediatric Dentistry is constantly developing and now includes early identification of children suspected to suffer from syndromes and of children suspected to suffer from child maltreatment.
Preventive dentistry is the practice of caring for your teeth to prevent dental diseases and keep them healthy. The two main causes of tooth loss are decay and gum disease, you can practice preventive dentistry by adopting these healthy habits: Daily brushing twice a day, floss between teeth once a day, and eat a balanced diet and limit between-meal snacks and dental cleanings. This will help ensure a good oral hygiene and beautiful smile for a lifetime.
Oral and Maxillofacial Surgery is a surgical specialty of Dentistry that combines dental, medical, and surgical knowledge and skills. Typical oral surgical processes include extraction of teeth, wisdom teeth surgery, dental extractions for physically compromised patients, placement of dental implants, bone grafting, tongue tie surgery, and analysis and treatment of cysts and tumors. Maxillofacial surgeon addresses problems starting from the removal of impacted teeth to the repair of facial trauma.
Cosmetic dentistry includes a variety of dental treatments emphasis on improving the appearance of your teeth and smile. There are diverse cosmetic dental procedures like: dental fillings, dental bonding, teeth whitening, dental veneers, dental implants, dental crowns, orthodontics, gum reshaping, dental bridges, tooth contouring, dental caps, root canals, cosmetic gum surgery, reshaping dentures. A charming smile can improve a person's self-esteem and self-confidence, can make people feel better about themselves.
Geriatric dentistry, or Geriodontics, is the crucial part of dental care to older adults involving the diagnosis, prevention, and treatment of problems associated with normal aging and age-related diseases. Older adults are expected to suffer from one or more chronic medical conditions that require consideration before initiating any dental treatment. Geriatric treatment is based on extensive dental, medical, mental, social and functional assessment of patient. It is the branch of dentistry, deals with the management of the dental issues which appear due to the normal aging and other age-related factors.
The regenerative dental medicine includes molecular biology, tissue engineering and stem cells focusing on replacement, engineer or regeneration of damaged tissues or organs thereby restoring normal functionality of organs.
Dental sleep medicine is a field of dental practice that focuses on the use of oral appliance therapy to treat sleep-disordered breathing, including snoring and obstructive sleep apnea (OSA). Sleep disorder may be a chronic ailment that happens when your muscles relax during sleep, permitting soft tissue to collapse and block the airway. These respiration halts are followed by brief awakenings that disturb your sleep.
Orthodontics is a branch of dentistry that deals with the identification, prevention and correction of malposition teeth and jaws. Orthodontics and dentofacial orthopaedics is the specialty of dentistry that emphasis on the alignment of the teeth and the dental arches: the maxilla and the mandible. The practice of this field includes diagnosis, prevention, interception, and correction of malocclusion and other abnormalities of the developing or mature orofacial structures
Endodontics is the branch of dentistry used to diagnosis, prevention, and treatment of diseases and injuries of the dental pulp along with associated periradicular conditions. Endodontics treatment can likewise be called as root trench treatment. Root waterway treatment is utilized to spare the harmed mash by careful cleaning and moulding of the root trench framework and after that finished with filling to forestall recontamination of the tooth.
Laser dentistry is a nominally invasive, precise, and effective way of treating dental disorders with the help of laser light. It is an essential part of various advanced dental procedures like gum surgery, cavity treatment, and other dental issues of the mouth such as removal of overgrown tissues, teeth whitening, etc. Laser dentistry is ideal for children who have trouble staying still for standard dental procedures.
Dental Anaesthesiology is the specialization of dental medicine that deals with the management of pain through the application of advanced local and general anaesthesia techniques. Dental Anaesthesiology manages pain and anxiety in the most comprehensive manner for all dental/maxillofacial patients.
Dental Public Health can be defined as a science and practice of preventing oral diseases, improving oral health, and promoting quality of life through organized effects of the society. Dental Public Health is implicated with the assessment of dental health needs and rising the dental health of populations instead of individuals.
The dental nurse performs an important role in the organisation and management of the dental practice, assists the dentist in all aspects of patient treatment plays a important role in patient care. The obligations of dental nurses include: handling dental materials, performing infection control and decontamination procedures, maintaining dental equipment and instruments and providing organizational support.
Periodontology is the branch of dentistry that deals with the scientific study, diagnosis and treatment of diseases in the surrounding tissues (Gum, Alveolar mucosa, periodontal ligament, etc.) of teeth. There are various roles played by periodontium like: they resist and optimize the forces generated by speech, mastication and swallowing; adjust the structural changes associated with age and external environment by continuous regeneration and remodeling. Periodontology deals with diseases which can be classified into gingivitis and chronic periodontitis. The common symptoms of gingivitis are redness, edema and bleeding. Chronic periodontitis can cause inflammation and bone loss. These diseases can be treated with periodontal therapy which includes oral hygiene, scaling and root planning and with the usage of antimicrobials.
The global market value on dental services enlarge nearly $436.2 billion in 2018, having grown at a compound annual growth rate CAGR of 7.4% since 2014, and is expected to grow at a CAGR of 9.6% to nearly $629.3 billion by 2022. Dental procedures such as dental implants, root canals, tooth bonding are expensive for individuals, forcing them to evade dental care even in case of uncovered dental issues. General dentistry segment will gain $121.86 billion of global annual sales by 2022.
Dental caries is a main oral health problem in most industrialized countries, affecting 60–90% of population all over the world. Tooth decay dental caries is caused by the action of acids on the enamel surface. The acid is produced when sucrose in foods or drinks react with bacteria present in the dental plaque on the tooth surface. The acid produced leads to a loss of calcium and phosphate from the enamel; this process is called demineralization. Dental Caries and Endodontic are growing at a high rate which is the most common problem in today's generation. It is a professional and in-depth study on the current state of the global dental caries and endodontic industry with a focus on the today's market growth. Overall, the report provides an in-depth close of global dental caries and endodontic market covering all important parameters.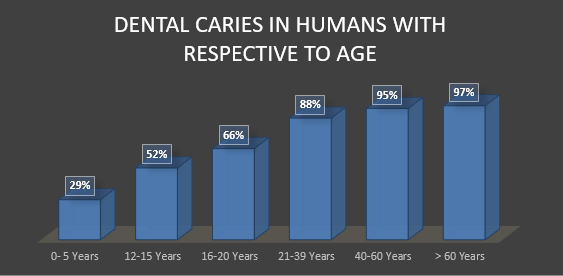 The global cosmetic dentistry market is expected to grow at considerably over the forecast period. The growth of market value is expected to rise at a CAGR of 18.5% during the forecast period of 2018-2023. The value of market report is segmented into the dental equipment and systems like dental bridges, dental implants, dental veneers, dental crowns, orthodontic braces, bonding agents. A growing focus for more aesthetic appeal in the field of dentistry has sparked the development of a wide range of techniques and procedures that serve up to specific needs of the patients. Escalating demand for orthodontic appliances and dental implants in the developing markets has caused a development spurt in dental tourism.
List of Universities in World:
The University of Hong Kong
University of Michigan
Tokyo Medical and Dental University
King's College London
Harvard University
UCL (University College London)
Karolinska Institute
Academic Center for Dentistry Amsterdam
KU Leuven
University of Gothenbur
University of Berlin
University of Bonn
University of Cologne
University of Erlangen
University of Frankfurt
University of Freiburg
University of Giessen
University of Göttingen
University of Greifswald
University of Halle
University of Hamburg
University of Hannover
List of Universities in UAE:
RAK College of Dental Sciences
College of Dentistry
Maktoum Bin Hamdan Dental University College
Ajman University dental College
University Dental Hospital Sharjah
European University College
Gulf Medical University
European Dental Education Center
Ajman University
List of Dental Companies in Worldwide:
3Shape
A-dec
Air Techniques
Align Technology
Bien-Air Medical Technologies
Blendax
Carestream Health
Dabur
GlaxoSmithKline
Dentsply Sirona
Henry Schein
Hynos
Ivoclar Vivadent
Kolibree
Lion Corporation
Nissin Dental Products, Inc.
Mydentist
Nobel Biocare
Odontis
Omega Pharma
Dentsply International Inc.
GC Corporation
List of Dental Companies in UAE:
IBDAA Medical & Dental Supply
Dubai Medical Equipment
Elwan Technical Supplies
Aden Medical Equipment & Cosmetics Trading
Meditron Healthcare Technologies
Scorpios International
Tulip Medical Supplies
Al Fayrouz Dental and Medical Equipments Trading
Hoodiann International
Al Thanaya Pharmaceuticals
Related Conferences:
Related Associations:
USA and Canada:
Canadian Association of Orthodontists, Canadian Dental Association, Canadian Academy of Endodontics, American Student Dental Association, Academy of General Dentistry, American Academy of Pediatric Dentistry, American Academy of Periodontology, American Association of Oral and Maxillofacial Surgeons, American Association of Oral and Maxillofacial Radiology, American Association of public Health Dentistry, American Academy of Oral and Maxillofacial Pathology, Canadian Dental Association, International Association for Dental Research (IADR) & American Association for Dental Research, FDI World Dental Federation, British Dental Association, National Institute of Dental and Craniofacial Research (NIDCR), American Dental Association, Pan American Health Organization (PAHO), Missouri Society of Surgeons, USA.
Europe:
Association for Dental Education, Irish Dental Association, British Dental Association, Spanish Dental Association, Danish Dental Association, Hungarian Dentistry, Austrian Dental Chamber, British Endodontic Society, European Society of Endodontology, German Society of Endodontology, European Federation of Periodontology, Seychelles Medical and Dental Association, British Dental Association, British Society of Pediatric Dentistry, European Federation of Periodontology, International Association for Dental Research (IADR)
Asia Pacific:
FDI World Dental Federation, South East Asia Association of Dental Education, National Dental Association, Indian Dental Association, Hong Kong Dental Association, Prosthodontic Society Singapore, Asian Dental Student Organization (ADSO), Endodontic Society of Thailand, Australian Dental Association, Malaysian Dental Association, Malaysian Endodontic Society, Malaysian Association for Prosthodontics, Malaysian Private Dental Practitioner's Association, Australian Dental Association
Middle East:
Emirates Medical Association, Emirates Dental Society, Bahrain Dental Society, Egyptian Dental Association, The Saudi Dental Society, Cyprus Dental Association, Iraqi Dental Association, Iranian General Dentists Association, Iranian General Dentists Association, Jordanian Dental Association, Arab Orthodontic Society, Lebanese Orthodontic Society, Turkish Dental Association, Turkish Dentist Association
To share your views and research, please click here to register for the Conference.
To Collaborate Scientific Professionals around the World
Special Issues
All accepted abstracts will be published in respective Our International Journals.
Abstracts will be provided with Digital Object Identifier by